This is a long post, but please bear with me…it's worth it. So Tuesday morning, I woke up, got dressed, packed bfast and a thermos of my favorite hot tea, and set out for work. Two flights of stairs and one door later, I find this: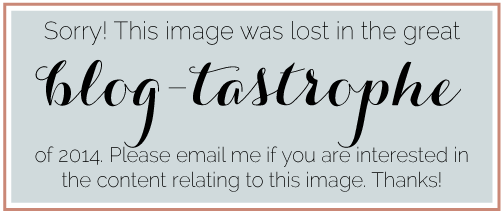 Call me small-town, call me naive, but I just didn't think people actually did this…stealing car wheels and leaving it on bricks. Particularly in a wide-open parking lot full of other, much nicer cars. Dumbstruck and frustrated are the understatements of the year. But ya know…such is life. And I'm not about to spend the rest of a perfectly good blog post just complaining about it. I'd much rather share what this unexpected little event has caused me to think on during the last 48 hours, amidst a slew of phone calls with my insurance company: how God takes care of us and about desperation.
We later found out that my car's particular make and model requires special sized tires, leading the police and insurance company to believe that someone out there has the exact same car as me and couldn't afford to replace their own tires. Or that they're running a chop shop. Regardless, I've been trying to focus on what those people were thinking or feeling when they did this, rather than just giving in to being angry. I know there's a chance they're just heartless criminals looking to make some quick money, but I also know that anyone can be driven to do crazy things in times of desperation. Be it for drugs, or food for their family, or just to keep themselves safe from debts with the wrong people. The point is…I have felt desperate before. I am an incredibly blessed person, but I do know what it's like to feel the heartwrenching panic of being desperate and lost and alone.
And whoever you are...I understand, And I'm genuinely sorry for whatever circumstances have brought you to this place. Frankly, I'd rather just be angry and think the worst of you. But I know the real difference…the one thing I have in that moment of fear and helplessness…hope in Christ. My family has struggled and we know what it's like to feel like everything is falling apart…BUT every. single. time….God showed up. In the most unexpected way, He was there providing. We've received countless anonymous checks that literally saved us from the brinks, and innumerable friends have stepped in to fill in the gaps. And every time things looked darkest, we knew (and know!) that God has got it under control. All we have to do is trust.
So to you, people with my tires: I want you to know that I'm praying for you. And that it really is okay. Just last night, I shared what happened with my church choir and several people started pulling out cash and checkbooks to help me cover my (daunting) insurance deductible. And in this way, what you've done has just been a great reminder of all the incredible blessings I've been given and the unending way that God's always got me covered. I'm just sad I can't share these thoughts with you. Boy do I know what it feels like to be lost and desperate, but that not me now. And it doesn't have to be yours. Whatever the circumstances are...there is no desperation so dark that Christ can't bring you out of it. So I'm going to pray that somehow those tires will lead you to Him, to a family of people who will love and encourage you. And I for one, would welcome you with open arms.
Psalm 32: "
Therefore let all the faithful pray to you
while you may be found
surely the rising
of the mighty waters
will not reach them.
You are my hiding place,
you will protect me from trouble
and surround me with songs of deliverance."