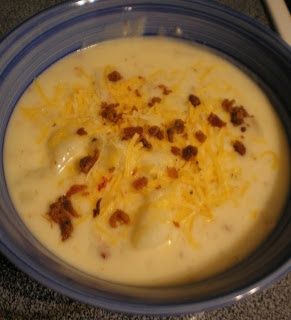 Not in the mood for turkey or casseroles knowing what's on the plate later this week? Might I suggest whipping up this easy and bowl-scrapin' good potato soup for a hearty treat perfect for a chilly November afternoon.
All due credit: I got this recipe from my lovely cousin
Lindsey (Reece's soon-to-be mommy)
Ingredients:
5 cups (low-sodium) chicken broth
4 peeled and chopped potatoes (uncooked)
1/4 cup fresh chopped parsley
Cheese, bacon bits, salt & pepper, and
garlic powder to your liking
Chop the onion (and cry a lot even with a fan on in the kitchen) and combine it and the oil over medium heat in a large pot.
Add the broth and cream and bring it to a boil.
Dump in all the potatoes (
then chase several escapee pieces around your kitchen floor
) and parsley and cook over medium heat for 15–20 minutes, stirring frequently. Reduce the heat to low and cook for an additional 30 minutes or so, stirring occasionally, until the potatoes are smooshy.
Add goodies like bacon bits, cheese, salt, pepper, and garlic powder to your liking (
aka, a lot of cheese for extra awesomeness
), stir till the cheese melts, and then serve!
It makes enough for 6–8 good sized bowls so if you're just cooking for two, I'd suggest cutting the recipe in half.
Notes: Even when the soup is an edible temperature, the potato chunks can still be super-molten-hot on the inside, so be careful with just diving right in. Also, I may consider trying adding a packet of dry ranch dressing to the broth-cream-boil stage for added flavor. If you try it let me know if you think ranch would work.
Last note: I couldn't write a post all about potato awesomeness without paying respect to a man who truly loves potatoes…Mr. Samwise Gamgee!