(OR How To Not Cry In A Walmart)
Welcome back! Today I'm focusing on the essential tail-end of the discussion started last week regarding Meal Planning. We developed a great strategy for weekly meals while also creating a grocery list. You'd think that's all we need, right? Not quite.
As you may remember, it wasn't so long ago that I was freshly back from our honeymoon and found myself on the verge of tears at our local Walmart. Somewhat silly, yes, but true. It seems an easy thing to make a grocery list and to go purchase those items, but a little more forethought and strategy can help in leaps and bounds. To help others avoid possible future teary shopping trips, here's my strategy for smart, successful marketing:
1. Shop intentionally/bring a list.
And if at all possible, limit trips to the store to one main trip each week with
a second quick stop later in the week for fresh meat/fish.
2. Stick to the list, even for generalities
. Sometimes I list a broad category to give myself the freedom to see
what's the best option that week. Ex: I often write "snack-packs" and then look to see whether crackers, fruit
snacks, etc. are on sale.
3. Be realistic
about what you will use in a reasonable amount time and about your available storage space.
Do you have a sizeable pantry? A chest freezer? We don't.
This much pantry space? In my dreams!
4. Stock up on favorites/staples when they're on sale
. Two-for-one loaves of bread or bags of bagels never go
amiss in our home. Freezing breads wasn't a common practice in my house growing up but doing so now allows
me to take advantage of savings I would have overlooked before.
buying
pre-portioned is always more expensive, sometimes astronomically
so.
Strider loves baked cheese crackers and pretzels so instead of
purchasing the "snack" boxes at the store, I buy family sized boxes and
divide portions up in zip baggies. These "snack-packs" as we call them are
the perfect grab & go size he likes but without the added cost.
6. Check end caps or sale bins for deals
...but only if you will really use
them!
BOGO deals on Swiss Cake Rolls or Hamburger Helper may be
tempting, but neither is a good choice for the healthy & homemade meal
goals in our home.
7. Note unsuccessful items.
If an item is too expensive at your regular store or out of stock, circle it on your list to
be picked up later during your quick-fresh-
necessities store run later in the week.
8. Allow for creativity:
When an item is just too pricey or when money is extra tight, think outside the box and
use what is already in the pantry. There are now online resources that can give you a recipe based on what you
have in the cabinet. Additionally, cooking bears up pretty well to substitution. Ex: Not long ago, I wanted to try a
recipe that called for a very expensive cut of fish; I simple used tilapia instead and it turned out great!
9. Pay attention & don't be afraid to ask.
If a can is damaged or if you notice the sell-by date is very close, take
the chance to ask the cashier if they can reduce the price for you—they're often obliging. And if prices ring up
incorrectly when scanned, be sure to point it out.
Helpful Grocery & Food Storage Hints:
- FIFO! Make grocery shopping the last stop before home and put items away immediately. Follow the First-In-First-
Out policy of foodservice so the first items in storage (older) are always the first out (in front of new purchases).
Simple but brilliant. To check out the FDA's recommendations on food storage, click here.
- Barter so you can share in the bounty! Not too long ago, superstores weren't dotting the land and people
shared their skills and trade. I've traded homemade bread for garden-fresh veggies and home-canned jams on
more than one occasion. Keep an open mind to what you have to offer. And let me know if you keep chickens!
- Don't write off the "Spaceship Chicken": Affectionately named for its personal Buzz-Lightyear-like craft, the
whole rotisserie chicken can be a great bargain. The meat can be used in quesadillas, salads, etc. and leftovers
make great cold sandwiches. More ideas here.
- Store food safely! Store pasta, sugar, and beans in glass jars or airtight plastic containers in the pantry to
minimize cardboard weevils. Store
flour, cornmeal, graham crackers, and other flours in glass jars as a minimum
in pantry, however,
the
best option for them is in the freezer
to eliminate bugs and to promote longer life. Bringing
them back to room
temp before using isn't necessary and will cause them to pick up unwanted moisture.
Additionally, nuts stored in
the freezer will also last much longer.
- Keep your fridge organized. Keeping refrigerators clean and orderly not only reduces waste but also helps
eliminate cross contamination. Click here or here for more info on cleaning up your fridge.
Also check out my Pinterest Kitchen Management board for more tips!
If you've embraced the digital age, maybe consider a grocery app to help you keep it all in order. Our Groceries and Out of Milk are both highly rated. I still prefer the handwritten method using a this free Printable Meal Planning & Grocery List template demonstrated in my last post.
Part Three of the Modern Simple Homemaking series launches next week!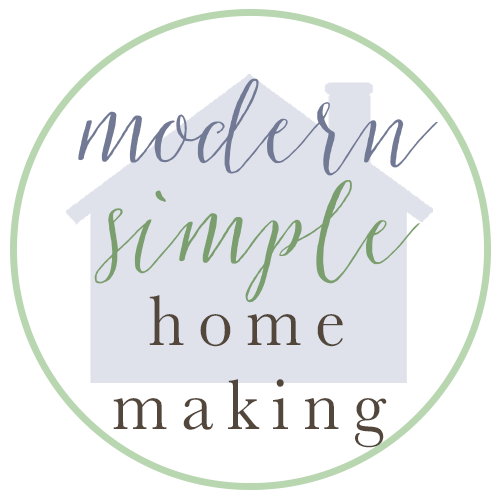 This post is part of the Modern Simple Homemaking series.
To learn more about this series and see other posts, click the button above.