Often the smallest and simultaneously dirtiest room of them all, bathrooms are certainly a cleaning chore. However, as with other spaces, having a cleaning regime here contributes to overall home environment and family health.
Once again, working top to bottom:
*Tip: start by coating toilet bowl with cleaner and allowing it to sit for a few minutes while you work on other areas.*


- Ceiling & Walls: Check corners for cobwebs or dust buildup.
- Mirrors: Use glass cleaner to get toothbrush splatters, especially on the lower portion.
- Shower/Tub: I've found the easiest way to clean the shower is when you're actually in it—like literally in the
process of showering. The steam and running water make the job much easier! A dispenser-scrubbie
filled with
dishwashing liquid works remarkably well. Whether you go this route or a shower-specific spray, make
sure to get
walls, ledges, and especially the "ring area" which tends to form on the lower walls, between 3-5" from
the tub
bottom. Use a squeegee on glass doors between cleanings and shower spray during heavier cleaning.
An old
toothbrush
does wonders on door tracks. For curtains liners, wipe these off to prevent mold/scum buildup.
- Surfaces: Use disinfectant wipes or all-purpose cleaner to wipe down any wall shelving, inside any cabinets,
countertops, and the back ledge of the toilet.
Note
: Regardless of space, aim for minimal countertop toiletries. For health reasons, it's especially recommended
to
keep toothbrushes in a breathable but closed area.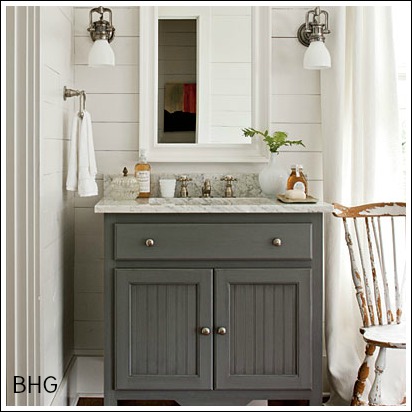 Gorgeous and clutter-free. (source)
- Sink: Disinfectant wipes are great for sink basins and faucets; old toothbrushes are handy for detail scrubbing.
For maximum shine on faucets, buff with a dry towel after cleaning.
- Toilet: Now that the cleaner has had a chance to sit, use a toilet brush to scrub the inside of the bowl and rim,
then flush cleaner away. Use disinfectant wipes on seat cover, seat (top and underside), and upper rim of bowl.
And don't forget to restock TP and periodically bleach the brush.
- Towels: Remove hand and bath towels and replace with freshly laundered ones.
- Floors: Empty wastebasket and sweep floor area, taking time to either shake out or launder floor mats
according to care instructions. Finally, use mop or Swiffer to finish off floors.
Not so bad, was it? I'll be honest, bathrooms are my very least favorite area of the house to clean BUT there is also nothing I dislike quite so much as using a gross one. I guess its an unavoidable
evil
necessity.
Now that our major home areas are all "spick and span" (what a strange expression though), let's not forget about a few other minor spaces to not overlook:


- Front Entry: A simple doormat and cobweb-free front entrance are always welcoming. Keeping the path swept
and
junk-free is a great way to reflect your home's inner order.
Simple, clean, and oh-so-inviting! (source)
- Laundry Area: Have a designated home for cleaning supplies and laundry, no matter how simple
—
even baskets
on the floor look better than just a pile of clothes. Aim to keep shelves moderately organized but definitely free of
sticky detergent spills.
- Ironing: We don't yet have a designated "ironing area" but instead, just try to keep iron, board, and other
supplies
close together. Hanging the board behind a door for storage is also a great Pinterest tip!
- Cleaning Supply Storage: Maximize storage space under sinks by using plastic bins or even tension rods to
hang bottles. Inexpensive cleaning caddies are also an option as well as over-door shoe organizers.
For an even more in-depth look at each room with printable checklists, c
heck out the Beginner's Guide to Cleaning Series
on Living Well Spending Less. So detailed!
And thank goodness, now all our major cleaning is done!