Usually the coziest room in the house, bedrooms are like sanctuaries to many people. As such, keeping this area clean will not only create a more peaceful place of rest, but also a healthier respite. Many items here are the same as what we've already tackled in the Living Room, so check out that post for more detail on specific tips.
- Strip the Bed: Launder sheets and pillowcase, but don't forget to periodically wash the mattress cover and pillow
covers as well.
Note
: Pillow covers are pretty inexpensive, healthy, and extend the life of pillows—this wasn't a
common practice for me growing up, but now, I definitely see the value in it!
- Ceiling & Walls: Mostly just checking corners for cobwebs or dust buildup.
- Ceiling Fan: Reminder
—
use
this method
for quick, easy cleaning.
- Air Vents: Bedroom air vents seem extra important to keep clean since they affect the air we breathe
during
sleep, am I right? Light dusting or a remove-and-wash are both helpful!
- Surfaces: As with the Living Room, don't cheat yourself with dusting surfaces by just going around items. Take
everything off, dust items then the surface, then replace photos and knick knacks.
- Make the Bed: Who doesn't love Fresh Sheet Night?! Though "the olden days" employed a more elaborate
layering method for making up the bed, I think a simpler setup works just as well: fitted sheet, flat sheet, and
comforter/quilt/duvet with extra blankets available on the side.
>>
Sheets
: Though I do use the "hospital corners" method for the foot of the bed, I prefer to leave the sides
untucked as it makes it easier to get in. Strider, however, would prefer to sleep in a straightjacket
—
weirdo!
>>
Pillows
: Though decorative pillows can be nice, they are usually more work than they're worth. Keep pillow
arrangements simple, finding one high-impact accent that can do the job with minimal fuss.
- Floors: Vacuum or sweep & wet-mop accordingly; don't forget about area rugs.
Bonus Idea: Folding & Storing Sheets
I've seen tons of ideas for folding sheets online--some great, some a bit illogical. Regardless, well-folded sheets really do make storage much pleasanter.
Growing up, my family put pillowcases in a separate stack from sheets and basically just dug around in the closet, grabbing whichever pieces we found first. I don't recommend it
—
haha.
This method works beautifully for us with minimal fuss:
First, grab a partner if possible because, as everyone knows, folding sheets is way easier with a buddy! Start with the flat sheet, making the first fold along the longest length (a "hot dog fold" if you like). This crease will also serve as your midline next time you're making up the bed. Bring it together into a "hamburger fold" across the mid-line then again along the long length. This will make a long, thing flat surface. Set it aside (trust me!).
Next, tackle the fitted sheet. Invert one corner and tuck it into its partner, then grabbing the now-corner-less side about 8" from the edge, which will create a straight line with the double-corner-pocket.
Continue to fold as normal until it is in a small rectangle about the same width as your folded flat sheet (this can be easier or more difficult depending on the sheet style). Set in onto the flat sheet about 10" from the edge.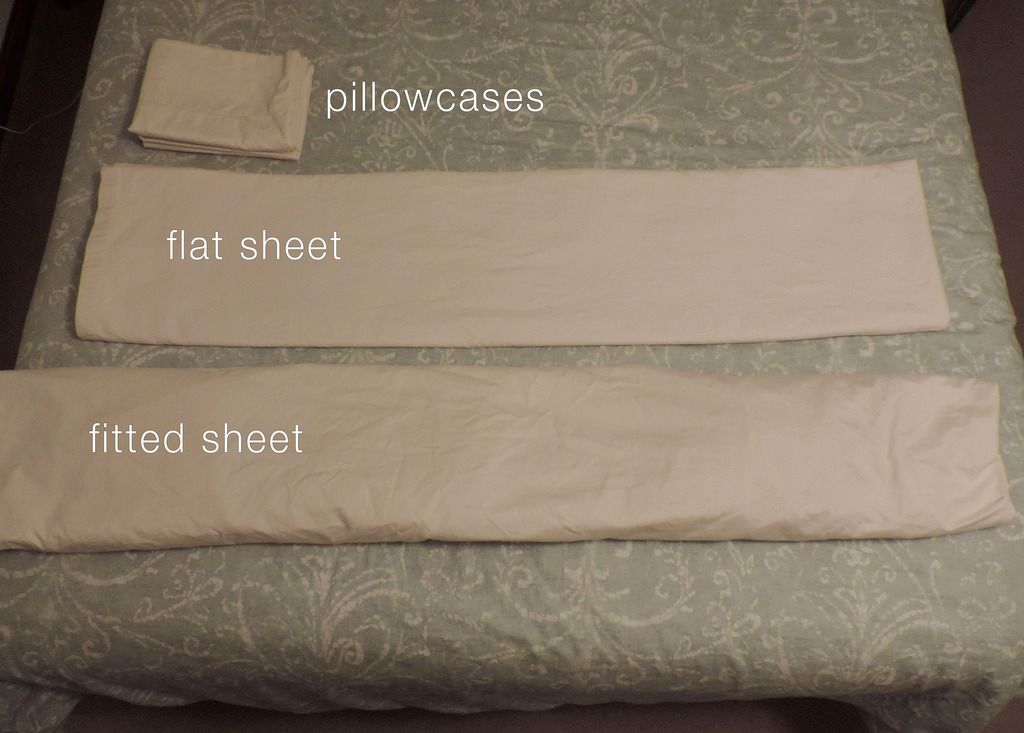 Fold pillowcases into small rectangles and stack on top of the fitted sheet.
Now the brilliant part! Pull the edge of the flat sheet over the stack and continue to roll it all together until you have a tight little sheet pod.

Not only do these sheet sets store extremely well, you can also rest easy knowing that every pod has a fitted sheet, flat sheet, and two pillowcases inside. No more hunting down missing pieces! If you have an incomplete set, simply create a new "set" however you like.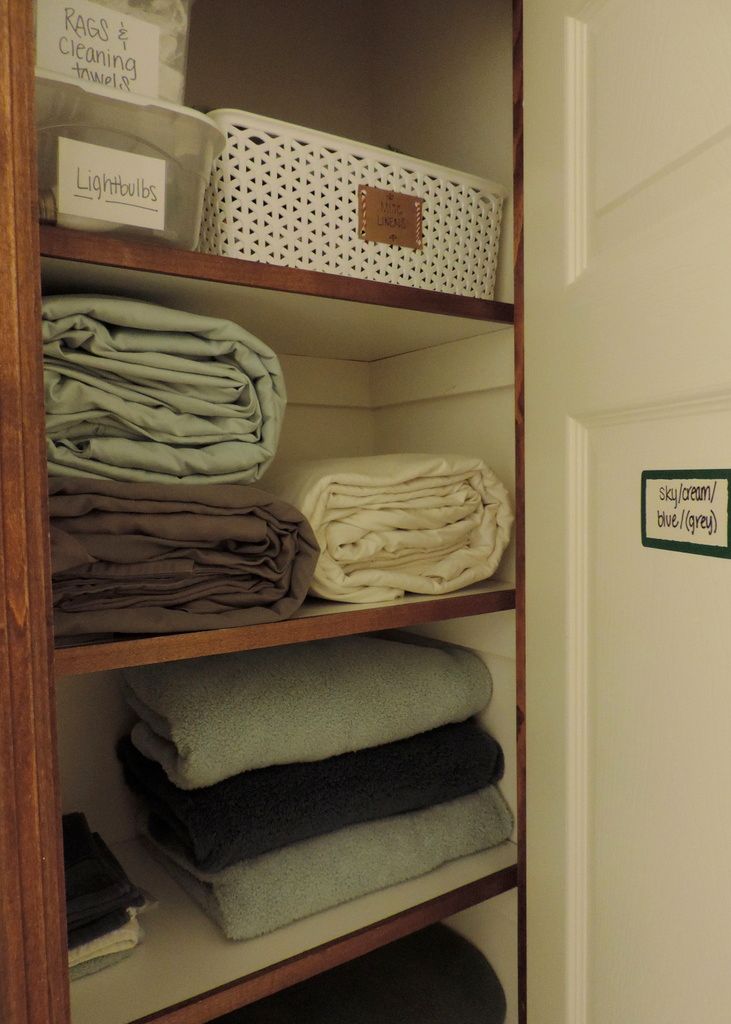 Also consider creating a Sheet Rotation Schedule. It may sound crazy, but to help create even wear across sets, make a list of which order sheets should be used in. This can be taped up inside the linen cupboard with seasonal sets listed in parenthesis to be skipped during off-season, as with our heavier grey set.