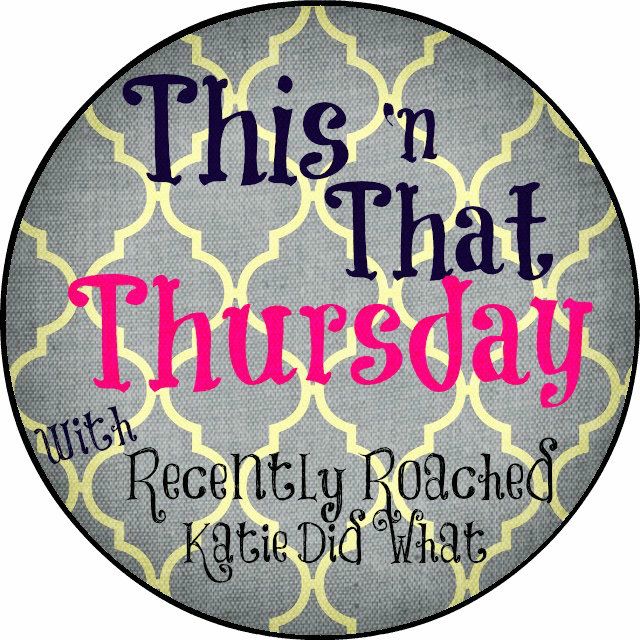 Today I'm linking up with Jena over at Recently Roached and Katie at What Katie Did for their This 'n That Thursday! Check it out and click on the button to join in the fun!
This: Antiobiotics. After a week on Amoxicillin (street name Amoxy, or so I've decided) for my throat crappiness…guess who now has an ear infection? And just in time for our choir's Christmas concert this weekend. My fingers are crossed that my new medicated ear drops work quickly. Also…although I try to only take meds when absolutely necessary…this is how I feel about antibiotics right now:
That: Can I take a moment to talk about my church's decorating committee? I know I can't prove it without pics but those ladies are fab-o-lous! Seriously! Every year our simple little church gets turned overnight into one of the prettiest little sanctuaries I've ever seen. It's classy and traditional and somehow (magic) incorporates those old-school feather Christmas doves without being tacky. I mean, I think I've got a decent eye for design but they really knocked it out of the park. So now I'm wondering what they'd charge to come help me redo my apartment—too bad my budget is $0.
This: I love baking. I mean, I genuinely enjoy few things as much as finding an awesome new recipe, testing it, and finding out that it actually is as good as it claims to be. Plus, as semi-stalkerish as this may sound, I love watching people eat the stuff I've made…that tiny moment when they have the first taste and you can read what they think all over their face…you know what I mean. BUT, despite all of that and despite the Kilimanjaro-sized stack of cookbooks, print-outs, and handwritten index cards that are piling up on my desk, the thing I love most (mint Oreos aside)…is a big buttery croissant slathered with nutella and microwaved—or an American-style pan au chocolat if you want to be fancy about it. Oo la la.
That: Somewhere on the interwebs I read that the first "Christmas song" was written in the 16th century. If that's true, we've got over 400 years of awesome music to choose from this time of year. I'm not saying it's all great and I'm not saying I want to listen to only orchestral chamber music this time of year. But maybe, just maybe, for Christmas 2012 could we skip "Grandma Got Run Over By A Reindeer" and "I Want A Hippopotamus for Christmas"? Please, pretty please!