(OR Is Your Closet Secretly Starring in a TLC Show?)
We've been looking at how to find your domestic style and how to reflect your style in a home. Both are important in bringing personality to a living space, however, both are superficial. Another hugely important part of creating a beautiful
and
balanced home is the structure beneath the style, and yes...the closets. Good organization is key to reducing stress and increasing enjoyment of the home and the activities that take place therein.
Admittedly, I lean towards the over-organizing end of the spectrum. Although you may not feel the same thrill at using a label-maker, that's okay! If, on the other hand, you open a closet door it looks like this...
...a little more organization is probably a good call. Though humans are wired to crave order, the degree of organization in which you will function best is determined only by you. Too little order and life feels stressful and chaotic, too much and we can begin to feel constrained by the rules, unable to relax and truly enjoy our homes.
So how do we find the right place in the middle?
Start by clearing out the clutter!
Decluttering can seem like a daunting task, but it makes the next part (
organizing
) so much easier. Keeping less clutter in the home not only makes life simpler but also helps save money—no need to purchase duplicate items just because you can't find what you're looking for.
Sidenote
: I've heard from several people that they tend to declutter during "spring cleaning" time, but I don't recommend this. Clearing clutter is a task on its own so don't stress about cleaning as well—count it an accomplishment to just get everything weeded out. So, let's get started:
1. Tackle one room or specific space at a time.
2. Designate three piles or zones for sorting into: KEEP, DONATE / GIVE, TRASH
(Notice there is no "Decide Later" zone...make those decisions as you go!)
3. Once everything is sorted, take out the trash. Then, bag up items to donate or give away
and put them in your car trunk or another place away from the area you're working on.
4. Give yourself a high five 'cause you're halfway done!
Now, before you start putting all your "Keep Zone" items away, examine the space and create a sense of order.
Organization and space saving ideas are certainly not in short supply online. While these tips can be helpful, a substantial part of creating an ordered system is determined by what you are organizing and in what kind of space. Naturally, closets and cabinets are designed to hold all our stuff but it's important to have a system of order even within smaller areas of those spaces. And don't forget about out-of-the-box storage like under beds or large furniture and on shelves above door frames or windows.
Here are some general tips for making organizing a breeze, no matter what kind of space you have:
1. If not already empty, take
everything
out of the space you're working on so you can see exactly how
much
space you have to work with and all the items that need to fit into it.
2. Think about the purpose of the space and what it's most frequent uses will be.
For example:
A linen
cupboard will require easy access to towels and sheets but also
to hold extra blankets/
pillows if possible.
3. Start by nicely folding, stacking, or arranging essential items. Group smaller and like items in bins or
baskets,
labeling if necessary.
For example:
containers for rags & cleaning cloths and seasonal items
4. Use leftover space in decreasing order of accessibility to hold items in decreasing order of importance.
For
example:
Christmas linens in a bin on the very top shelf
—
hardest to reach but only used once a year.
5. Don't forget about doors and wall space. I love over-door shoe organizers for scarves, hats, cleaning or
craft
supplies...anything really. We also mounted a hanger on our closet wall for Strider's ties and belts.
Contain It! I am a big advocate of containers and there is no shortage of variety at affordable price points. My favorite places
to hunt down bins & baskets are: Dollar General/Dollar Tree, Walmart, Big Lots, and thrift stores.
(
As much as I love Target, they are typically over-priced in this category
)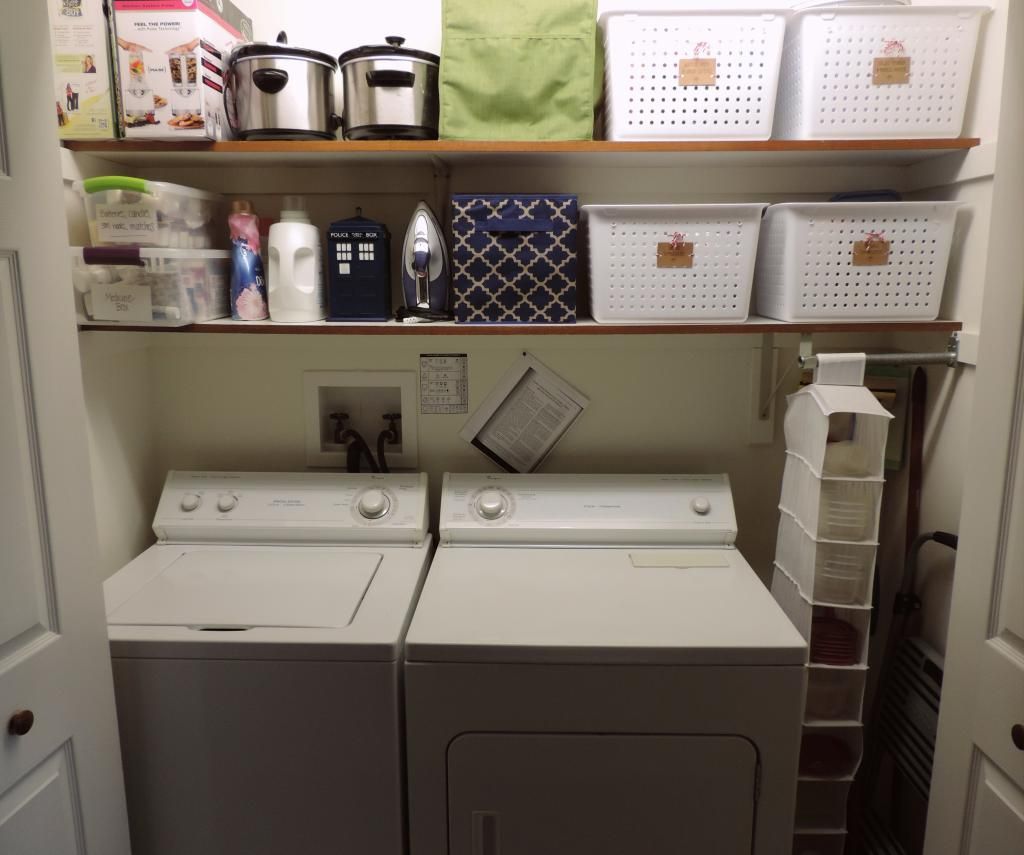 All baskets/bins courtesy of Dollar General. Notice the hanging shoe rack? Try awesome small tupperware storage!
Using the general organizational principles above, you can tackle any area of your home!
Here are a couple bonus area-specific tips:
For larger storage: Sturdy bins with locking lids are a must. As illustrated in my post about moving, I recommend keeping a master contents list for large tubs. Simply write down everything you store in each tub and label them with their storage location and a number (ex: Coat Closet #2: tablecloths, placemats, napkins). That way you can refer to the master list when looking for an in-storage item to see exactly where and in which tub it is located.
Numbered bulk storage makes locating things easy peasy!
For pantry storage: Depending on space, use shelf risers (or wooden blocks), a Lazy Susan, and back-of-door spice racks to create more storage opportunities. Invest in some plastic or glass containers to eliminate cardboard as well, this not only makes for a cleaner-looking pantry but is also recommended for safe food storage in many cases. Hobby Lobby half-off glass sales are perfect for racking up. (Super budget-friendly option: save sauce and pickle jars and reuse those instead.) Labels of various styles are available at any craft or office supply store.
Random organization tips:
- Instead of towers of DVD cases, use a flip-page CD case to store movies and reduce case clutter.
- Address labels make great nameplates for the inside of book covers.
- Use an index card to label the contents of clear plastic bins and tape to the inside wall before filling and storing
on high shelves, that way you can easily see the type of contents.
For more great ideas, check out my
Pinterest Organization board
with tons of great links.
Looking for more intense organizing advice? I highly recommend Home Organizing 101 at A Bowl Full of Lemons. Her original 14-week program shows how to evaluate specific organizing needs one room at a time. Great stuff!
Now that your house has beautifully organized "bones", let's get the daily routines in order as well...starting next week with the dreaded B word.....budgets!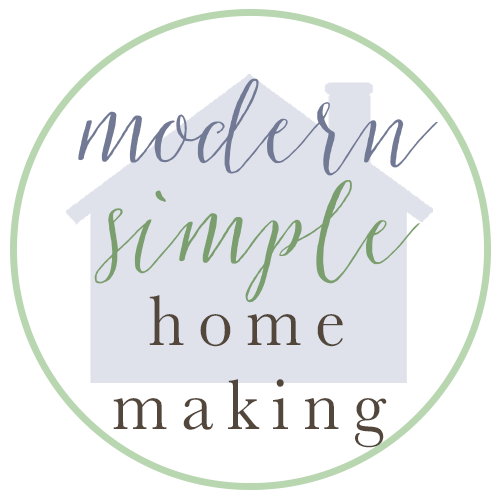 This post is part of the Modern Simple Homemaking series.
To learn more about this series and see other posts, click the button above.