(OR Why Decor Magazines Are Big Fat Liars)
In the last post, I talked about retaining your sanity while moving to a new home. So whether you're starting from scratch in a new place or just looking around your well-settled home with a creatively critical eye, now comes the fun part: Making It Beautiful! And
it's just a matter of where to start...
It takes no time at all to find gobs of expert decorating advice, tips, and quizzes. However, I've found that the trouble with those sources is that everything is often expensive and unrealistic. Yes, the rooms they are photographing are admittedly staged, but answer honestly—would you really want to spend time in those spaces even with a stray pair of shoes or bit of clutter added back in? My answer is usually no.
Maybe my dislike of such high-brow, well-manicured living is rooted in my simple childhood.
Or maybe...normal, average people just like comfortable spaces. And maybe, the idea of furniture you aren't supposed to sit on is just as ludicrous to others as it is to me. Maybe...the magazines are just big fat liars.
So where does this leave the average homemaker wanting to create a unique, comfortable, and stylish home environment on a limited budget and with finite resources?
Well, here are two great ways to start defining your own home style:
Method #1: Feelings Over Themes
Though online quizzes may point you in the right direction, almost no one really fits in to the ludicrous decorative categories dreamed up by the "experts." As with most things, likes and dislikes are usually made on a case-by-case basis, so shouldn't we evaluate our style the same way?
Classical, Contemporary, Farmhouse, Cottage, English Cottage, French Country, Transitional,
Country Glam, Primitive, Colonial, Art Deco, Rustic, Bohemian, Mediterranean, Coastal
What in the world do any of those have to do with me?!
Instead of an abstract theme, make a list of words that describe how you want your home to feel and things you are typically drawn to. Try starting with some of these:

Now that you have a list of keywords, use those to define your style. Either go old-school with scissors and magazines or hop on Pinterest (it's what it was made for!). Make a new inspiration board and browse around a bit. Look in the Home Decor section, yes, but also try searching some of your keywords and adding random objects as well. As an example, check out my Home Style Inspiration board. After a while, look at the whole collection of images and you'll probably see a strong style of your own coming through.
Remember: It doesn't have to be expert-defined to be beautiful!
Several online quizzes have suggested that "Farmhouse Glam" is right for me...and I can tell you right now that nothing in my life is "glam". And how my favorite dog is supposed to contribute to that analysis is beyond me!
Method #2: Take A Cue From Hollywood
Though we've already established that the controlled environments in decor magazines are mostly lies, in a strange a twist, Hollywood can be a good measure of truth. Though I've found zero mention of this theory on home decor sites, I think movie sets are a great way to examine home styles. Set designers and prop departments spend loads of money, time, and talent to create believable,
intentionally imperfect
environments for their characters.
Have you ever been watching a movie and said to yourself, "Wow, I love that kitchen!" or "How cute is that bedspread?"
I can't be the only one!
Think through some of you favorite movies and see if you can recall a set that particularly stuck out to you or a really memorable house. Jot down what you liked about it, or better yet, Google it and see if you can find a screenshot. Or next time you watch that movie, snap a picture of something you like on your phone. It sounds crazy but it's worked for me!
So, based on word lists, my inspiration board, and favorite Hollywood homes, it seems my ideal style is somewhere between Sense & Sensibility's Barton Cottage and Harry Potter's The Burrow. Which I guess makes my personal style category something like "Farmhouse-Cottage-Eclectic-Magic-Fictional." Haha!

One last note: Don't forget
to consider others' style as well
when your home is shared. Everyone appreciates feeling at home in their home even if they claim they "don't care". **cough cough, husbands**
Now...how can you build that style in your home without a
decorator and on a shoestring budget?
Find out in my next post!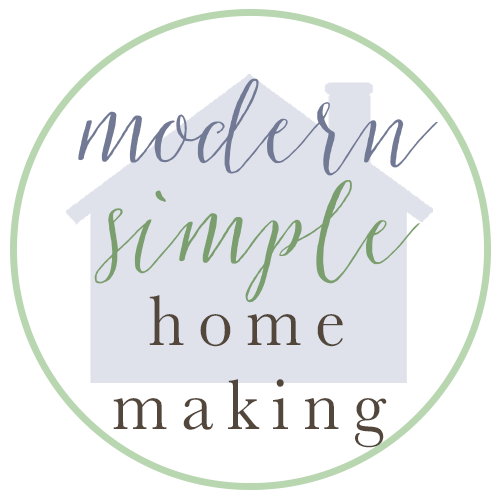 This post is part of the Modern Simple Homemaking series.
To learn more about this series and see other posts, click the button above.