(OR Cultivating Creative Home Decor)
Now that you have a sense of your domestic style, it's time to start definitively reflecting it in your own home.
Some helpful tips to consider before jumping in:
- Focus on one room at a time.
- Define the purpose of the room regardless of it's intended function:
(
A friend recently turned a small
sunroom into a homeschool zone for her kiddos; not its original purpose but better to serve their needs.
)
- Get to bare bones: Clear out as much as possible so you can start with a blank canvas.
Time to get inspired! And if you're like me, there's nothing to spark home decor inspiration like a beautiful photo of someone else's living space. A perfect example for me is this stunning dining area below:
Though the actual style of the space seems fairly simple, when you consider each part, there are suddenly a lot of components that make up the whole. It's THIS moment of dissection that makes many home-self-stylists feel overwhelmed. W
e see something we love but
a quick consideration of the budget and experts they may have had at their fingertips, suddenly, even trying begins to feel futile.
But it isn't as impossible as it may seem!
First, find a few indulgent sources of inspiration that you know are a bit far-fetched. Realize that these are just jumping-off points and not the actual end-goal. Next, print off copies of your favorites and circle a few of the elements that you love the most.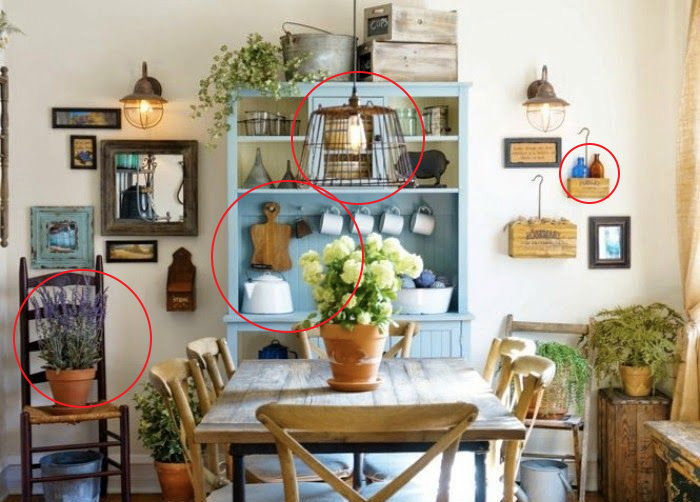 Now that you've identified your favorite components, consider how realistic they might be to incorporate into your home or think up some alternatives if they aren't. My usual go-to is to first consider a new paint color for the space, which is easy and relatively inexpensive, but also not an option for our apartment. So...on to do-able items:
1. Lavender (& lots of plants): I don't have enough space for a plant to reserve a chair unto itself. And frankly, I'm
not that great at keeping plants alive these days.
2. Rustic-industrial light fixtures: Very cute but not possible for me - our dining room has a depressing brass
light
fixture that carries a definite permanence of "renters aren't allowed to change everything".
3. Hutch & vintage kitchenware: LOVE the blue hutch but I have neither the space nor the budget for a large
acquisition. I've been looking for something similar for a while, but it may not be in the cards for this apartment.
Cute, vintage-style accents, however, are definitely doable!
4. Colored glass bottles & rough wood frames: I have a smattering of bottles, crocks, and vintage-style wooden
frames already. A great opportunity to Shop In Your Own Home.
Start with what you may already have around the house and tackle each realistic element you want to include. Take time getting creative with how you can make those happen—I may not be able to achieve the wire lighting, but maybe a wire basket or accent elsewhere will incorporate the same look.
Sources for decorative elements will change based on your personal style but here are some tried-and-true sources worth everyone's time:
- HomeGoods/Dept Stores:
A little pricier than other options, but you can find great items on clearance.
- Antique stores:
Many people are put off by feeling that they don't know what is of value, but I firmly believe that
it isn't collector value but personal value that matters. If I like it, that's good enough for me!
- Thrift stores: You may not find a treasure every visit, but keep a watchful eye as merchandise moves in and out
quickly. Have a few to frequent every few weeks just to browse new items.
- Yard sales: It's work to get up early and drive around during the yard sale season but there can be a great payoff
if you're determined and don't give up easily. Take a friend to make the digging more fun.
- Discount stores: WalMart, BigLots, and dollar stores are great sources for items that need just a little paint or
embellishing (ex: a bit of hot glue and lace turned a cheap lampshade into a unique living room addition!)
- Craigslist/Community Facebook: Be wary when exploring posts here and make sure to confirm the condition of
items before agreeing to purchase HOWEVER don't be dissuaded - there are some incredible finds to be
discovered here! (Our awesome living room furniture was just $100!) Don't forget to take a friend for pickups!
- Roadside: For the truly adventurous, keep your eyes out for curbside haul-away items. My rules: nothing
upholstered or if weather has been bad. People often discard minimal-repair items to avoid hauling them away.
Now back to our dining room style re-imagining. Here is our dining area...exactly 7 square feet with a brass light fixture that can't be changed out. The Before: (complete with $25 yard sale table/chair set that has a refinishing project in its future come spring)
And after a bit of creative hunting at home and in a few thrift & antique stores: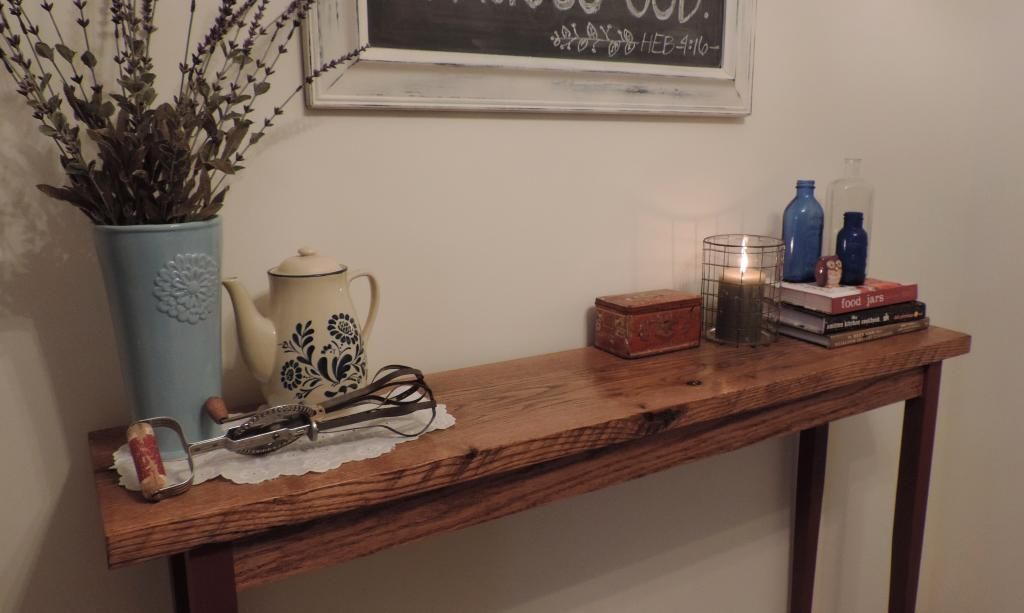 1. Lavender: Some half-off artificial sprigs from Hobby Lobby in a spare vase originally snagged for $4 in the
clearance section of a Hancock Fabrics.
2. Rustic-industrial light fixtures: Though the light fixture is non-optional, I brought in the wire lighting look with
a new candle holder from Lucky Girl Vintage ($10).
3. Hutch & vintage kitchenware: No room for a hutch but vintage accents are doable with an antique teapot ($15
at a local market), old-school hand mixer, and red tin (which doubles to hide chalk & eraser for our frame above).
4. Colored glass bottles & rough wood frames: all scrounged from around our house; the frames were originally
white but I gave them a spruce up with a $2 sample jar of paint from Lowe's
So there you have it! Some great (and maybe surprising) sources for decorative items plus a new plan of attack for successfully beginning a re-style your space, one room at a time.
Also remember that lighting, plants, candles, pillows, and other small accents, while clutter-y in excess, in moderation, are a great way to introduce color and style in any room.
How about some free resources and a gift card to get you started?
Check back next week for the first Modern Simple Homemaking series giveaway!
This post is part of the Modern Simple Homemaking series.
To learn more about this series and see other posts, click the button above.