Somewhat by happy accident, all the latest books on my nightstand have been food-related. And of course, nothing makes you want to rush into the kitchen and starting cooking up a frenzy more than an inspiring foodie novel. Sadly though, nothing staunches that inspiration like your entire kitchen being packed up in boxes. (Our big Moving Day is T-minus 1 week!!) Instead, my big kitchen challenge last week and this week is to create menus that systematically use up all our current pantry stock while limiting additional purchases. It's going well so far but definitely making things a little more interesting on the planning end. It feels a bit like a depressing reality show...now time for "Eat Your Way Out of Your Home"!! (Terrifying but no doubt soon-to-air on A&E.)
Tangents aside, I've been devouring foodie books left and right and can't wait to organize our new kitchen (wherever that may be) and get back to cooking. In the meantime, I highly recommend these fabulous finds: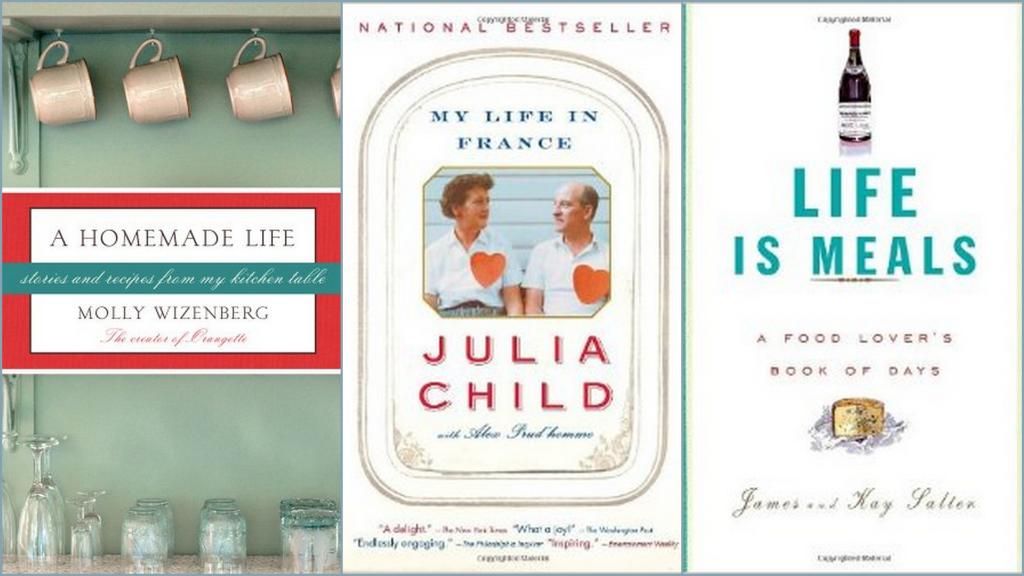 Thoughtful and self-reflective, she shares her life journey of loving food and the signature dishes and cooks that shaped her foodie passion. Wonderfully written, a bit sad at times, but enjoyable and inspiring for sure with great recipes to keep and try.
I am ashamed to admit that I'm just now getting around to reading this, but finished it this morning in a state of utter sadness to turn the last page. Julia Child's My Life in France is absolutely stunning, lovely, brilliant, quirky, human, and fun all in good measure...very much like the author herself. I read Julie & Julia a few years ago and wasn't terribly impressed, though I do adore the movie adaption of the two books together. Now that I've finally gotten around to My Life in France, it will be a welcome addition to my permanent collection for future re-reads. All around, just tremendously enjoyable!
Next up on the foodie to-read list is Life is Meals by James & Kay Salter. A random treasure picked up at our local book consignment shop, I am intrigued by their 365-day layout and was hooked from the first few lines. Hopefully, it will prove to be number three in my accidental but wonderful foodie reading saga.
Last proper kitchen adventure pre-living-room-full-of-boxes was Buttermilk Cake with Marscapone Cream and Fresh Berry Compote...not at all a bad way to wrap up our last few days in this kitchen!