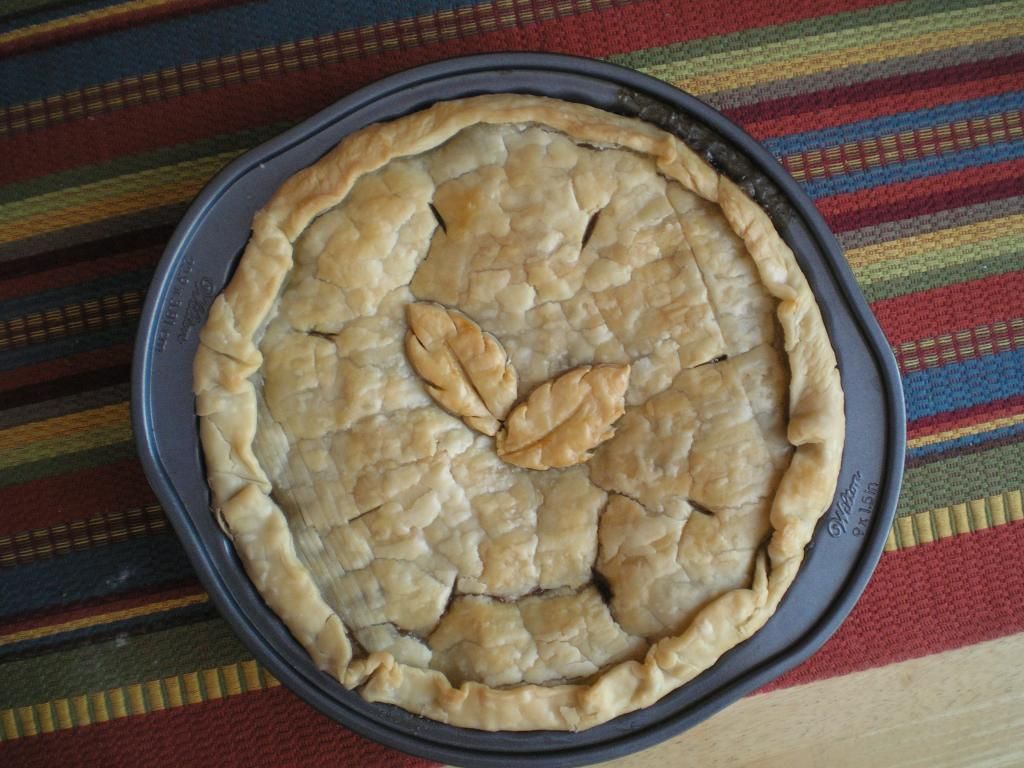 Caramel-Chai Apple Pie

(super tasty and it rhymes to boot!)
This weekend my amazing friend Kirsten's birthday was serendipitously accompanied by a drop in temperature significant enough to merit the official kickoff of the autumn baking season! As such, I am happy to have two incredible recipes to share. Though it may sound totally nuts from the name, I can promise you that this is the very best apple pie I have ever made. Ever.
Ingredients:
Pillsbury 2 ct. refrigerated pie crusts
1 egg white
1/2 cup unsalted butter
2 tbsp unsalted butter
3 tbsp all-purpose flour
1 tbsp pure caramel extract
1/2 cup chai concentrate (Tazo or Oregon Chai are both great)
1/2 cup granulated sugar
1/2 cup brown sugar
1/2 tsp each: cinnamon, cloves, allspice, nutmeg
4 granny smith apples, peeled and thinly sliced
First, set your crusts out for 15 minutes to bring them to room temp. Normally, I'd harp on the importance of handmade pastry but frankly, these are easy and delicious and I'm giving myself a free pass since the rest of the pie is from scratch. Unroll one crust, line your pie pan, and brush it with egg white.

In a medium saucepan, melt the 1/2 cup butter and add the flour to make a paste.

Add the caramel extract, chai concentrate, both sugars, and the spices.

Stir and increase heat to bring to a light boil then reduce and simmer, continuing to stir so the sugar doesn't burn to the bottom. Cook on low for 5-7 minutes then remove from heat.

Line the bottom crust with a layer of apple slices (

I think it's essential to keep the slices thin

) and pour 1/4 of the filling mixture over them. Repeat layering apples and filling till full.

Cut up the 2 tablespoons butter and dot the top of the pie.

Unroll your top crust and either use it whole or cut up into a lattice.

Brush the entire top with egg white and then poke vent holes.

Bake on 350 for 1 hour. Cool to room temperature and *this is key*...let it set up for 5-6 or so hours before serving.
It got rave reviews for me and thankfully, the birthday girl said she enjoyed her "cake".
Reheat a slice and top it with some vanilla bean ice cream...that's what I call a great way to start off fall!