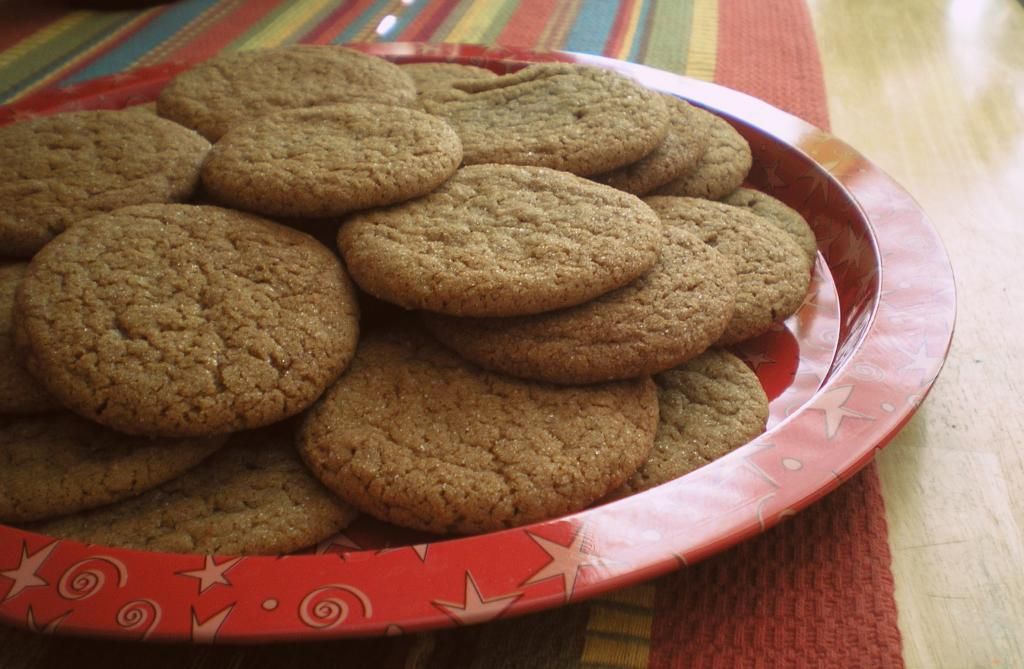 Super-Spice
Molasses Cookies
I love for things that are meant to be spicy, to really pack a punch. As a rule, I always use lots of extra chai when I make my morning drinks, hot or cold. As such, I've looked for a while for a truly spice-featuring autumn cookie that is still soft and chewy, regardless of when it is eaten. And I found it all in this incredible and easy
recipe!
Ingredients:
2-1/4 cup all-purpose flour
1/2 tsp each: cinnamon, ginger, allspice, cloves, nutmeg
1 tsp baking soda
1/4 tsp salt
3/4 cup softened unsalted butter
1 cup sugar and
1/4 cup sugar divided
1 egg
1 tbsp orange juice or orange liqueur
1/4 cup molasses
Whisk together all the dry ingredients.

Cream the butter and sugar together till fluffy, add the egg, then orange juice/liqueur and molasses.

Gradually add dry ingredients to butter mixture.

Refrigerate 45 minutes. (This is important because otherwise the dough is too sticky to work with.)

Roll dough into 1" balls then press into discs.

Cover with 1/4 cup sugar and place on baking sheet about 2" apart.

Bake on 350 for 8-10 minutes.
I personally think these are perfect for dipping in what I call "Snow Cream Steamers"...just a cup of milk with a tsp of sugar and vanilla extract heated up like hot chocolate. Excellent for snuggling up with a book!