(OR Making Bellies & Budgets Happy Since Forever)
Welcome back, friends! Here we are—the final segment of the Modern Simple Homemaking series: Classics-For-A-Reason. And what better way to start it off than with a true homemaking classic...food preservation!
Look at all those beautiful colors! (source)
There are so many wonderful benefits to preserving food, it really should be a no-brainer:
- no weird additives or hard-to-pronounce ingredients
- reduces intake of hidden & unnecessary sugar (like in pasta sauce)
- reusable containers lessen environmental waste
- more diversity...make something tried-and-true or be creative and try something new
- boosts local economy...farmers markets are a canner's best friend!
- makes for great gifts
- extremely cost effective!
There are a few main methods of preserving: freezing, canning, fermenting, pickling, curing, and drying. Although I'm all for drying fresh herbs, I have no experience with fermenting, pickling, or curing so we'll just look at the first two popular methods.
Freezing
Freezing food is one of the easiest methods of food preservation and almost all of us do it on a daily basis. I mean...how much stuff is in your freezer right now? Of course, the level of consciousness in preserving frozen food varies greatly, but whether you're stocked up on pizzas or have a deep freezer full of garden goodies, we all do it.
Although perhaps the simplest of the preserving methods mentioned above, there are some considerations to be made. First, be careful to properly seal all your frozen goodies to ward off the dreaded freezer burn. Second, if you are doing some serious freezing, consider making an inventory list so that you don't forget about items tucked away; labeling both the package itself as well as an external inventory is helpful. Lastly, make sure your freezer (either fridge-combo or chest freezer) is holding temp at 0 degrees, otherwise you may lose valuable food.
You may remember my Applepalooza post last fall when Strider's mom and I froze a bit of homemade applesauce, as in 17 containers worth. Well, we've been enjoying delicious, healthy applesauce all winter long. The cost savings were huge and as predicted, it was too good to last a whole year...but it came close! Thankfully, his parents have a deep freezer so we've just taken a couple containers at a time home with us. Definitely on the list again this year.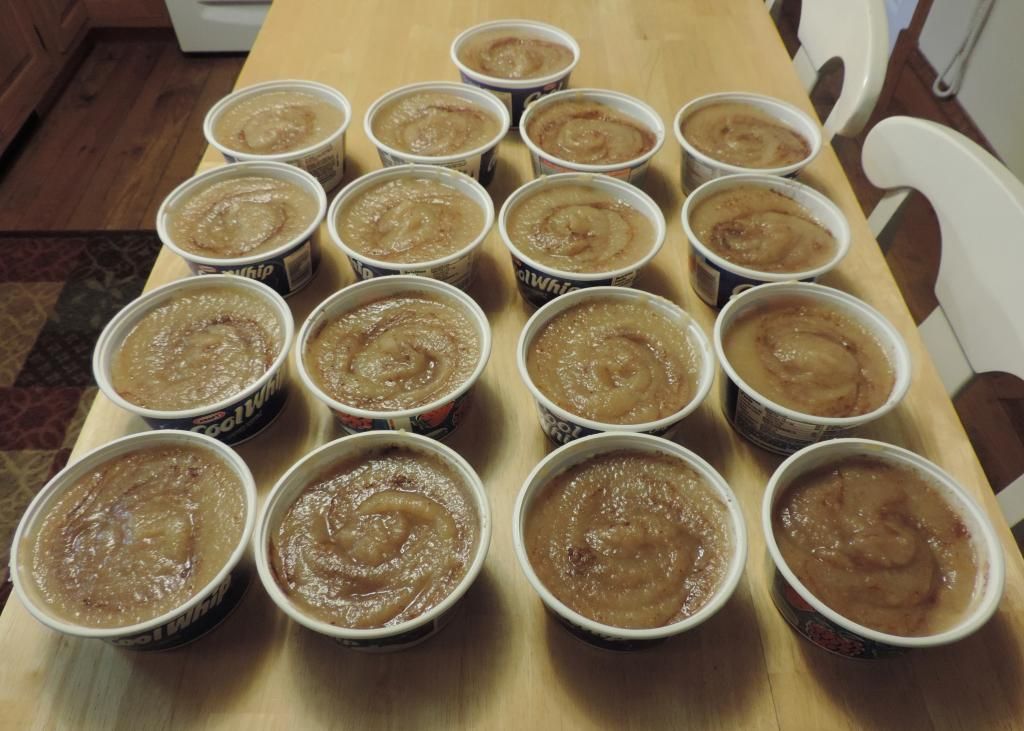 In addition to the intended apples later in the year, I've already stocked our freezer with loads of whole frozen berries from local farms as well as two different varieties of freezer jam. Freezer jam is delicious and so handy when you want a taste of bright summer fruits mid-winter. The Ball com
pany
(basically the biggest name in preserving) has tons of freezer jam/jelly recipes available online; Sure Jell brand by Kraft also has a wealth of recipe resources.
For a list of how to best freeze individual foods,
click here
.
For some FAQs on freezing,
click here
.
Canning
Canning is another fabulous way to preserve food at home. Though a little more labor intensive, it has added bonuses too. First, properly canned food does not need to be refrigerated or frozen so it doesn't take up valuable space (or require thaw time in prep). Second, there is no fear of a power-outage ruining saved goods. Lastly, it is easy to transport and makes for wonderful gifts.
In addition to preserving plain fruits and veggies, preserved spreads are a delight to enjoy or share all year round and come in nearly unlimited varieties: jams, jellies, preserves, conserves, marmalades, fruit butters, and curd. You can also can salsas, soups, sauces, desserts (like we did with apple pie filling). So many
delicious
possibilities!
So far this year I've made two freezer jams:
black raspberry and strawberry, and two canned jams:
strawberry-rhubarb, vanilla-rhubarb. All were surprisingly easy to do and very tasty! (Don't worry, we've given over half away...far too much jam for Strider and I to eat alone, but a great way to get to know our neighbors!) The learning/experimenting process is really fun and has great results. Plus, having a cute, homemade gift at the ready for dinner parties or thank-yous is handy.
For information on how to best can individual foods,
click here
.
For some FAQs on canning,
click here
.
Three Additional Important Notes:
- Recipes: When looking for preserving recipes (especially for canning), make sure to use a reputable source (sorry
not Pinterest). The cooking times, temperatures, and science has to be carefully tested to ensure that dangerous
bacteria are killed during processing. For this reason, "winging it" with canning is not a good idea.
- FIFO: Make sure to use First-In-First-Out food rotation when enjoying your home preserved goods. That way you
don't need to worry about things hanging around too long and getting funky.
- Funkiness
: If your preserved treats ever look or smell suspicious (
discoloration, mold, etc.
) make sure to throw
them away (
this does not include separation since some sauces and veggies will do that naturally
). Home
preservation methods do not use the machines or chemicals that commercial manufacturers do (
which is a good
thing!
), there can be hiccups. If canned jars lose their seal, take a pass. Make sure to follow proper
recipes, procedures, and storage for home preserved goods and it shouldn't be much of a problem!
For tons more information, check out the National Center for Home Food Preservation or Getting Started through The Ball Company. Those guys mean business (tasty tasty business!)
And come back next week for another post on homemaking classics with modern payoffs!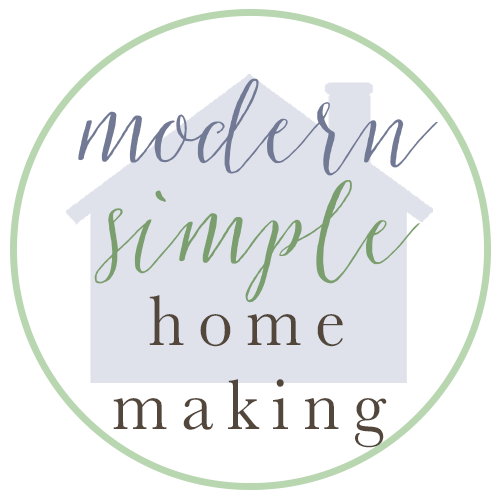 This post is part of the Modern Simple Homemaking series.
To learn more about this series and see other posts, click the button above.