That's right, my first foray into English Paper Piecing is finally complete! After a ridiculous amount of microscopic stitches and a few months of being too busy to work on it at all...Project Hexagon Pillow is finally done!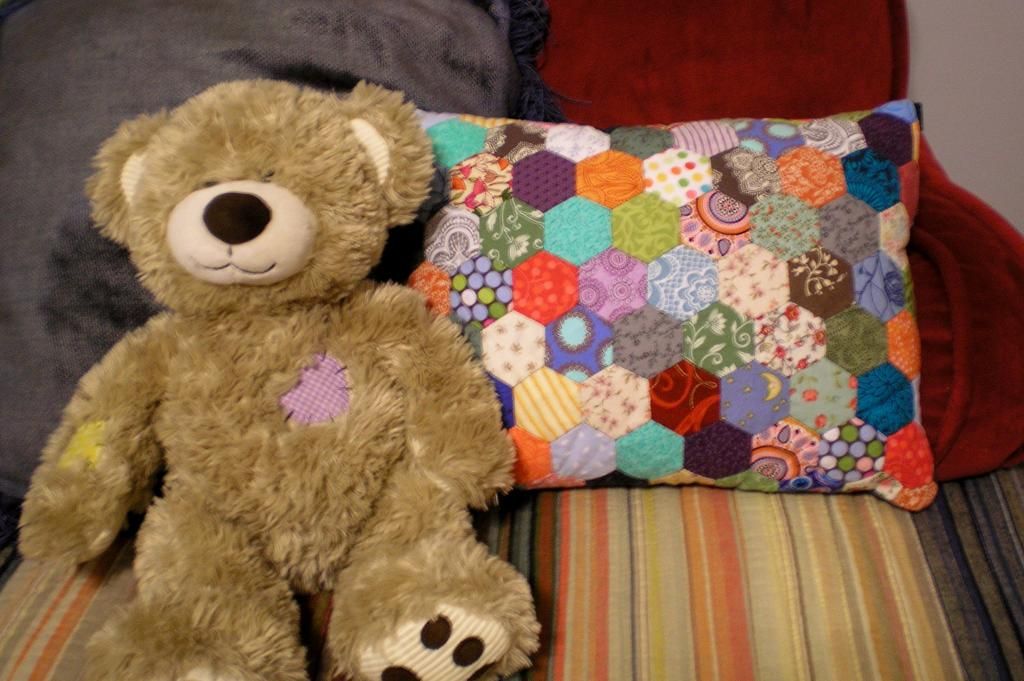 I originally mentioned this project way back in February. The original picture used in that post was lost so I don't have the beginning bits to show you again here. If you're dying to see if, you can get a glimpse in the original post.
I'd been seeing a lot about paper piecing and "cute hexies" on the sewing blogs I follow and I decided this would be a nice challenge to expand my needlework skill set. To get started, I googled "paper piecing hexagons tutorial" or something of the like and read about a million different takes all explaining very subtle differences of how to do basically the same thing. Instead of failing to accurately explain it myself, I'll refer you to these awesome tutorials for your viewing pleasure:
Jay Bird Quilts hexagon tutorial
Amy Gunson extensive hexagon tutorial
FaveQuilts paper piecing tutorial
Sew (buh dum pssh)...after an inordinate amount of whip stitching to get all the little buggers together, my finished pillowcase front ended up being 9 rows by 10 columns (90 hexagons total). I decided on the fit by laying the ever-growing hexagon group across a 12" x 15" pillow form - just make sure to leave enough room for seam allowances and such...even if it means sewing an entire extra row of hexagons you know will mostly get cut off. Ugh!
Next, I chose a calmer grey polka dot cotton for the backing to balance all the crazy colors on the front. Add a zipper (another recently acquired skill you can see from the picture that I've yet to perfect), trim the excess - even though I was so sad to cut into all those hard-earned hexagons, flip it inside out, and call it a day!
Yay for finished projects! And yay for this colorful little pillow I use it during my reading-before-bed time.