Helllooooo! Wedding planning is going very well and with unemployment comes lots of other projects to keep me busy (though hopefully the unemployed bit will be very short lived). I have fun pics from a few projects but today I wanted to share a project I actually completed quite a while ago -- my "Be My Bridesmaid? Boxes". I've seen this idea floating around the crafty internet space for a while, but since I decided to put my own spin on it, I figured I'd share. Plus, now that the girls have all received them, I can finally post without spoiling anything.
The main Pinterest ideas I saw were either boxes with all the wedding info (their dresses, colors, etc.) or more alcohol/time-for-the-girls-to-party based. Since I didn't have much of the wedding info at the time and since the latter is not my style, I decided to just create fun boxes with little treats for all the girls. Naturally, the first stop was a trip to Hobby Lobby!
I used inexpensive pulp board boxes as my base (less than $2 each). Then, I hand painted each box green with a soft white lid. With 2 pieces of scrapbook paper (the handwritten looking one and the pink circle - 10c ea), a little photoshop magic, and modge podge, I finished the lids with each girl's monogram.
Add some hot glued lace ribbon and a blue finishing ribbon ($5) and you've got a great outside!
Next was the super fun part - the gift itself! First, I used a label from
The Graphics Fairy
and a little photoshop to create the inner lid label, more modge podge to seal it on. (For the record, only my sister's box said "Maid of Honor", the rest said "Bridesmaid".) Box goodies include:
#1. small nail polish (confession...dollar store)
#2. two teas (from my collection)
#3. mason jar sewing kit: I had the jars already, got the kits for $3 at Hobby Lobby, and
used this tutorial to refinish the jar lids into pincushions with fabric from my stash
#4. a heart-shaped cookie cutter from Hobby Lobby (50c ea) with a small green bow tied to it
#5. a candle (dollar store) with a bit of leftover lace from the box lid hot glued to dress it up
Add a little sprig of silk flowers from a wreath I made last spring and a bit of tissue paper, tie it all up, and it's ready to go! The girls really seemed to like them (or lied cause they love me haha) and truthfully, each box cost less than $8 to make. It was a fun way to ask them to join the bridal party and a great way to start off my handmade wedding!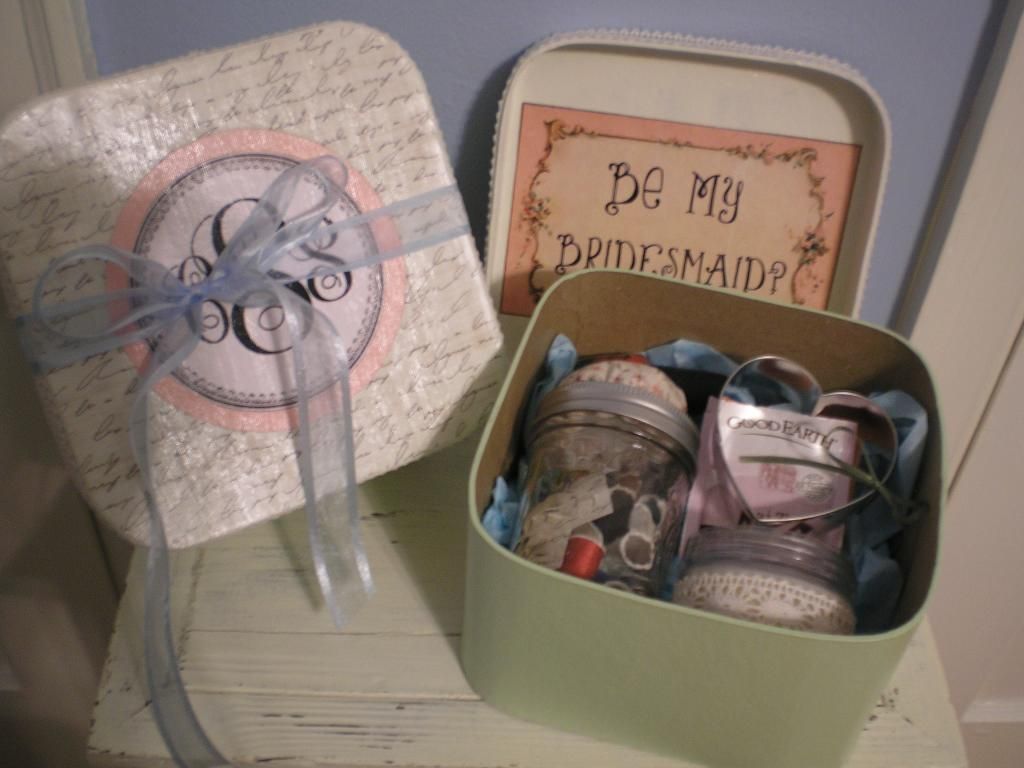 I hope you like them too and feel free to comment with questions if you want tips or ideas on making your own! Plus, do you remember all those crazy hexagons I was sewing when I wrote this post back in February?! Well, I finally finished that project and will be posting the results of my paper-piecing hard work later this week. Whooo!